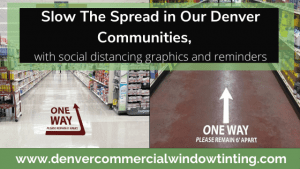 While Denver is currently under a mandatory stay at home order, the day is approaching when our community will resume business as usual. As businesses and organizations are allowed to open their doors again, they will be required to comply with new, mandatory safety regulations. As many business owners already understand, it can be nearly impossible to enforce these regulations without the proper tools. This can render businesses and organizations vulnerable to safety hazards, liability and even lawsuits. We are here to tell you that our safety plans and social distancing graphics can provide your organization with the proper tools to enforce and comply with mandatory safety regulations. With strategically placed reminders for safe practices, caution signs, and foot traffic directors, your organization can provide a safe space for your employees and customers, limit liability, and comply with mandatory procedures.
Give Your Denver Business an Advantage
As the status of COVID-19 continues to change, new safety regulations will be constantly updated. It will be up to Denver business owners and operators to adapt to these changing regulations. Stress levels are already at an all time high, adding these additional regulations is something that many businesses will struggle to keep up with. Our safety plans and graphics can relieve this stress. Our team of professionals can quickly provide your organization with updated safety plans and install the necessary signage to help enforce proper safety procedures. The graphics we will install in your organization are incredibly durable, easily removable, and can be applied to virtually any surface. Allow us to provide your organization with piece of mind. Our tailored safety plans and graphics can help you provide a safe environment for your employees and customers, protect your organization from lawsuits, and ensure proper compliance with all mandatory safety orders.
Hand Washing Reminders: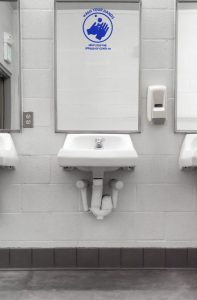 Directional Graphics for Aisles and Walk Ways:
Clearly direct foot traffic throughout your facility.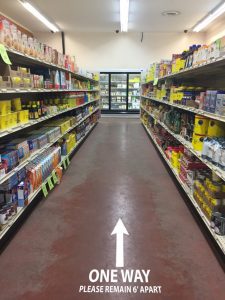 Check-Out Line Graphics:
Enforce appropriate social distancing in check-out lines.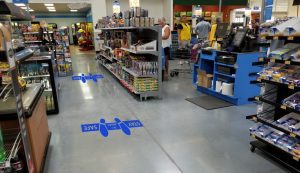 Door Graphics:
Install caution signs for mandatory mask areas and other reminders/ warnings.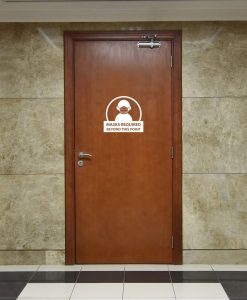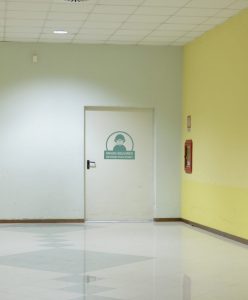 Have Denver's Preferred Graphic Experts Work For You.
If you are already stretched thin, allow Denver Commercial Window Tinting help your organization comply with all new safety regulations. Due to our dedication to protecting Denver communities, we are offering free virtual consultations and maintaining operation during normal business hours. Our safety plans and graphics are tailored to each organizations exact needs. Enforcing a safety plan through social distancing graphics can help your organization do its part in slowing the spread of COVID-19 in Denver communities.
For more information on social distancing surface graphics and safety plans, please contact us!