Creating a positive impression on your clients is important. In order to create the right impression, you have to maintain appearances and keep your office looking professional. With decorative window film, you can modernize the look of your office space and add custom logos, decals, and designs to your Denver property. It's an affordable way to decorate and also one that's easy to maintain and use.
Decorative window film is different that traditional window tint in that it's main purpose is to improve aesthetics. Decorative window film makes spaces more visually appealing and also more functional by creating privacy. It still provides all the same cool benefits of traditional window tint, like uv protection and glare reduction, while going just one step further to enhance aesthetic appearances as well.
Ways to Use Decorative Window Film in Your Office
In an office environment, decorative window film can provide numerous purposes. It can create privacy for conference rooms or personal office spaces. And it can also be used to increase brand visibility, such as with a window film on an entrance or wall that showcases a business logo. Here are just some of the most common places that our clients in Denver add decorative window film to their office space:
Demountable glass walls – Demountable glass walls are one of the most common methods for creating glass conference rooms in an office. While these are nice for maintaining an open, collaborative film, on their own, they are lacking in privacy. Adding a gradient or frosted film to your conference rooms can help keep your meetings private and personal.
Glass cubicles – Glass dividers and cubicles can be greatly enhanced with a patterned, textured, or specialty window film. Window films turn glass walls into more functional room dividers and give employees a more comfortable space to work in.

Office entries – If your office entry receives too much heat or sunlight, window film can help make it more comfortable. Adding a window film printed with your business name or logo can increase your brand visibility.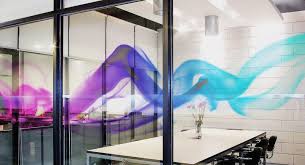 Choosing the Right Decorative Window Film
When it comes down to selecting a window film, it's important to take not only the individual space into consideration, but also the look of your whole office. A flashy window film with a colorful pattern or landscape may seem like a cool idea, but does it mesh with the rest of your office decor? Sometimes, when it comes to office spaces, simpler looks are better, but it really depends on what type of ambiance you're going for. Regardless, there are numerous options of decorative window film out there that you can choose from.
Speak to a Designer Today
Start exploring decorative window film options for your Denver office today and get a custom logo, decal, or design for your space. Call Denver Commercial Window Tinting to schedule your free onsite consultation!